आप हिंदुस्तान का वो आयना है जहां इंसानियत का चेहरा साफ नजर आता है I
Gujarat – The Land of the Legends, where creativity and craft is a communal expression. The brilliant blend of art, culture and traditional values in Gujarat makes this place full of peace and soulfulness. In Gujarat, Kutch is it's hub, where life breathes and culture is celebrated. In today's chaotic world, a place like this is a treasure trove that should be preserved for humanity's good.
Kaarigar Clinic is a rural business venture that enables artisans to become entrepreneurs. We take on cohorts of artisans every year and co-create unique business models with them. Of our many associated artisans, Pabiben is one of those who is a real brand ambassador and represents the colourful nature of Kutch.
Pabiben, A Vibrant Rabari lady, whose childhood struggles, pushed her to work hard and get famous in her younger days. She dared to start one of the first Women Artisan Enterprises Pabiben.com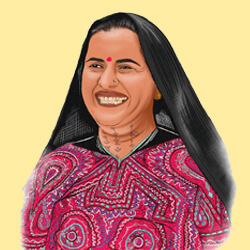 Pabiben
A vibrant Rabari lady, Pabiben's childhood struggles pushed her to work hard and gain recognition at a young age. She has become an inspiration and an idol for many in her community. Pabiben.com was founded as the first artisan-led brand that aims to empower rural women...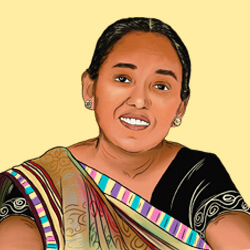 Rajiben
Coming from a small village called Awadhnagar in Kutch, Rajiben is the pioneer of a woman-craft-enterprise that hand weaves up-cycled plastic to make utilitarian accessories. Her aim is to channel her creativity to craft a better planet...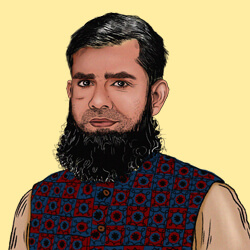 Jabbar Khatri
Jabbar Khatri was born into a traditional Khatri family in Kutch. After working in an urban set up for a few years, Jabar Bhai realised that his true calling lied in his ancestral work of hand-block printing. Today he is a craft-entrepreneur with a team of artisans, who create beautiful Ajrakh prints, that are close to his heart and culture...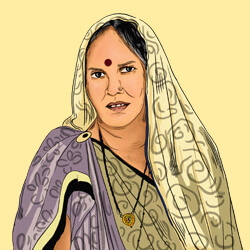 Jyotsanaben
A skilled painter, Jyotsanaben beautifully captures Mata Ni Pachhedi, a sacred textile art practiced by the Vaghari community from Gujarat. While Jyotsanaben makes natural colours for the paintings, her husband who is colourblind, creates the sketches. Together they have beautifully adapted this craft-form and trained many artisans in their community...