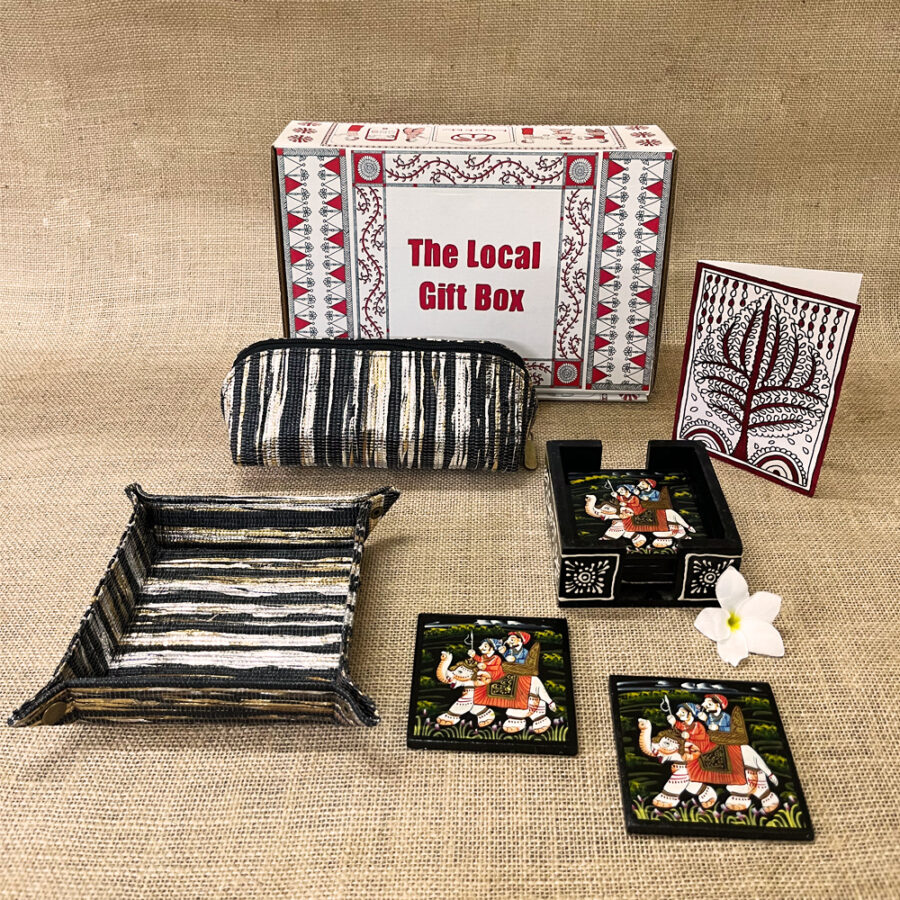 स्वागत
₹1,500.00
100% handmade by local craft entrepreneurs
2 in stock
Description
About this box:
100% handmade by local craft entrepreneurs
Craft type : Upcycled plastic weaving
Box size : 11"x7.5"
Box includes : 4 different craft products
Size: 3.5″x 9″
One compartment with zipper closure.
Material : Up-cycled plastic weaving
Colour : Black, Silver and Golden
Care : Clean with a dry/damp cloth. Do not wash.
Wooden Hand Painted Coasters
Set of 6 hand painted coasters
Hand painted Mata ni pachhedi card
 Raji Small Tray
Size: 5.5"x5.5"x1.5″
Material: Up-cycled plastic weaving  with waterproof inner lining
Colour: Black, Silver and Golden
This tray can help serve or hold stationary items or be used as a decorative accent
Care: Clean with a dry/damp cloth. Do not wash.
Slight irregularity in design and colour is the beauty of handicraft.
Raksha Sutra
In these uncertain times, Raksha Bandhan brings with it a renewed sense of love and security. Traditionally observed between brothers and sisters, the symbolic meaning of Raksha Bandhan can be applied to any bond. Historically, the widowed Rajput queen, Rani Karnavati, sent a Rakhi to Mughal Emperor Humayun, asking him to protect her kingdom from invasion.
Similarly, we at Kaarigar Clinic ask you to extend your care towards our artisans, by choosing to gift your loved ones the Raksha Sutra Edition of The Local Gift Box. A variety of hampers are available For Him and For Her. Each one is thoughtfully put together to add to the joy of the festival.
Make this Rakhi even more special by choosing The Local Gift Box!
Reviews (0)